Surfing Lesson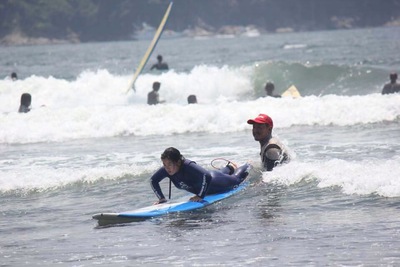 Give surfing a shot in Shonan, a mecca for marine sports.
Kugenuma Kaigan is suitable for all levels, whether you're a beginner or an advanced surfer.
It's a great place to start surfing!
Beginner surfers can receive proper instruction from friendly instructors, so you will be able to enjoy the sport.
The lesson is a trial session conducted by a surfing school, so participants can borrow all necessary equipment for free.
Menu ・ Prices
Please make your payment directly to the surfing school on the day. A shuttle service to the venue is available.
Time slots for surfing lessons … (1) 9:30 – 12:00 (2) 13:30 – 16:00 (3) 16:00 – 18:30 
(July / August) (1) 9:30 – 12:00 (2) 16:00 – 18:30

Remarks
*Please bring your own swimsuit.
*Pay shower booths are available.
*Reservations are required. We ask that you check out of your room beforehand if you wish to take a surfing lesson on your day of departure.
Due to weather conditions, lessons may be canceled for safety reasons. Should weather cancellation be inevitable, all participants will be notified the day before.
*Should you wish to withdraw your participation, we ask that you notify us no later than the day before your lesson.
Your payment is non-refundable if cancellation is made on the day of your reservation.